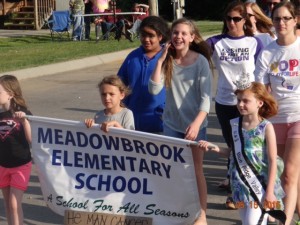 Meadowbrook Elementary has been hard at work raising money for the American Cancer Society's Relay for Life this year. The staff team, the Cancer Fighting Cubs, held several fundraisers and the students were eager to help.
Since Winter Break, Meadowbrook students used their estimation skills to win candy in the Estimation Fundraiser. They also tried their luck at the Sucker Pull and students went wild for the School Store purchasing cool school supplies for a good cause. In April, the war was on… the Paper Chain War! Classes competed to make the longest paper chain to win a Sonic Slush party. Together, Meadowbrook students made a chain that was 2,456 feet long – that is almost half of a mile!!! Mrs. Horton's 5​ th​ grade class was the top winner, selling 858 links. Close behind was Mrs. Williams' 4​ th​ grade class and Mrs. Deaver's 3​ rd​ grade class. They won a Sonic Slush Party. Students were really excited by the possibility of winning a Slush Party, but many students gave money just to benefit such a good cause. Kole Smathers, a 4​ th​ grader in Mrs. Deaver's class, brought in a sizeable donation during the Paper Chain War. He stated, "This is so great, but the real reason we are doing this is because my grandmother has throat cancer." Meadowbrook students raised over $1800 to benefit Relay for Life with the Paper Chain War. On May 15​ th​ , it was lights out in the Meadowbrook Cafeteria for the Relay for Life Glow Lunch! Students and staff purchased glow items like necklaces and bracelets, and even mohawks and tiaras, to wear at lunch in the dark. The festivities continued throughout the day as students read with the lights out in their classroom and had a dance party in the hall at the end of the day to celebrate a successful Relay for Life season.
The Meadowbrook Cancer Fighting Cubs staff team had a booth at the Canton Relay event on the night of May 15​ th​ selling Chick-fil-A sandwiches and flavored lemonade and tea. The event theme was "Lights. Camera. Cure." And The Cancer Fighting Cubs became the "He-Man Cancer Haters" for a Little Rascals ​ themed booth. In total, Meadowbrook raised ​$4,368.51​ to help the American Cancer Society save lives from cancer!!! We had an awesome time raising money for an awesome cause.