Leader In Me  (LIM) is a transformational approach that teaches life skills to students and teaches them (and us) that every child can be a leader. The goal behind LIM is to foster the whole child and encourage positive growth through leadership, responsibility, accountability, communication, teamwork, self-direction, and creativity ~ to name a few. The 7 Habits are listed with the tree in the lobby of our school. I look at Leader In Me as being positive for both cultural and instructional change. This is also a growing process for all of us. Growth is good.
Stephanie Goodwin, Principal MES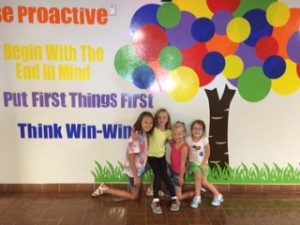 Thanks so much to Kim Fisher for all her hard work on making the Tree and 7 Habits on our wall in the lobby of the school. It looks awesome!